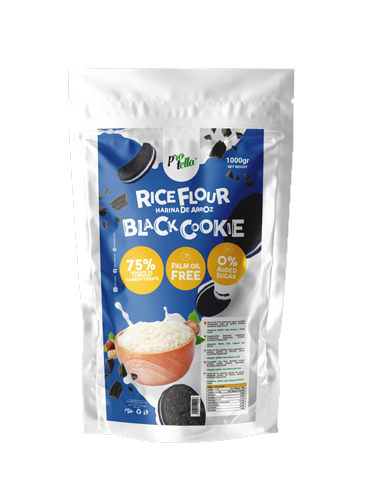 PROTELLA Rice Flour (Black Cookie, 1000g)

Quick overview
Adapts to all types of diets, easy to digest.
11,95 €
$ 13.15
$ 17.45
11.95

Ship to

calculate shipping cost
Secure and reliable payment with

PROTELLA Rice Flour
The Black Cookie Rice Flour will surprise you with the pieces of black cookie inside.
The Speculoos Rice Flour will surprise you with its pieces of the traditional Christmas cookie inside.
Rice flour is an ingredient that adapts to all types of diets due to its properties. Among its benefits, it is found that it helps control cholesterol and favors lower acidity. It is easier to digest and assimilates relatively faster.
Rice flour is ideal for the preparation of bread, pancakes, cookies, crepes ... Your recipes will be delicious!
Ingredients
Precooked rice flour, defatted cocoa powder, flavorings, sucralose, Digezyme®.
Allergen information
May contain traces of gluten, soy, lactose and nuts.
Advice for use
Use our rice flour to make spectacular desserts, it can be used in different ways: making pancakes, crepes, cookies, muffins, cakes ... Keep away from those with a sweet tooth!
EXTRA USE: If you are in a hurry but want to fill your stomach, you can prepare a delicious smoothie with two scoops of rice flour (100g) and 300ml of milk or water.
Cautionary note
Store between 18-20 degrees and a maximum of 60% relative humidity, preserved from aromatic substances. Consume preferably before the expiration date stipulated on the package.