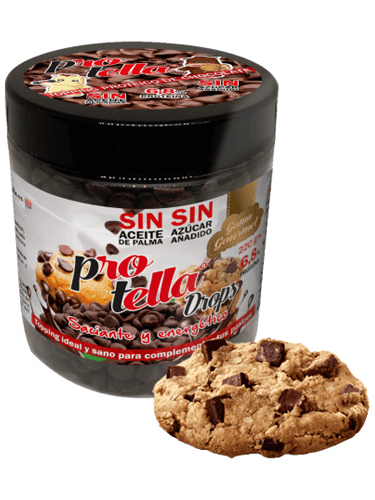 Quick overview
-NO added sugar
-Palm Oil FREE

5,99 €
$ 6.59
$ 8.75
5.99

Ship to

calculate shipping cost
Secure and reliable payment with

PROTELLA DROPS
The Cocoa used in Protella Drops is delicately harvested with care in the plantation. Looks, tastes and smells like Venezuela. An entire sensory experience. This is our cocoa, unique. Scientifically proven to be the best in the world for exceeding global standards of excellence. Chocolate drops with 60% pure cocoa. Ideal to complement your favourite desserts or add to dessert recipes.
What are the benefits of taking them? It satisfies the anxiety to eat and gives the body a dose of happiness in the form of sweet.

Ingredients
Cocoa, sweetener (maltitol), cocoa butter, defatted cocoa powder, emulsifier (e-322 sunflower lecithin, e-476) and aroma.

Allergen information
Nuts, peanuts, milk, gluten

Advice for use
Conservation: Store between 18-20 degrees and a maximum of 60% relative humidity, preserved from aromatic substances. Consume preferably before 24 months.

Cautionary note