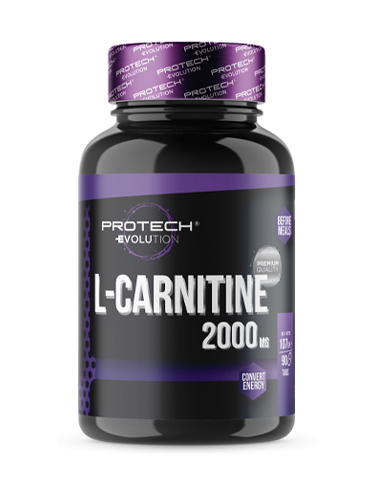 PROTECH L-Carnitine 2000 90 Tabs

Quick overview
Contributes to the proper functioning of the muscles. High dosage of 1000 MG per tablet.
39,56 €
$ 43.52
$ 57.76
39.56

Ship to

calculate shipping cost
Secure and reliable payment with

PROTECH L-Carnitine 2000 90 Tabs
Naturally present in the muscles, L-carnitine is essential for their proper functioning. Indeed, it plays a major role in the travel of long-chain fatty acids inside the mitochondria*. Through this process, energy in the form of adenosine triphosphate (ATP) is produced in the mitochondria. L-carnitine is suitable for people who want to burn fat and increase muscle mass.
Ingredients
FOOD SUPPLEMENT BASED ON L-CARNITINE (per daily dose) L-carnitine (2g), bulking agent: microcrystalline cellulose, Anti-caking agent: magnesium stearate, Glazing agent: glycerol dibehenate, Anti-caking agent: silicon dioxide [nano]
Advice for use
Take two tablets daily with a glass of water before meals.

Cautionary note
Do not exceed the recommended daily dose. Keep out of reach of young children. Does not replace a varied and balanced diet or a healthy lifestyle.