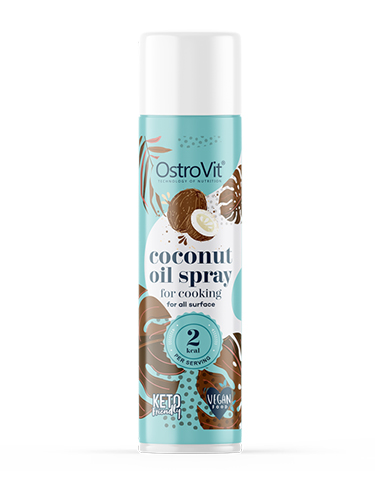 OSTROVIT Cooking Spray (Olive Oil, 250ml)

Quick overview
Premium quality coconut oil in spray form.
OSTROVIT Cooking Spray
OstroVit Cooking Spray Coconut Oil is a premium Coconut oil available in a spray bottle. Coconut oil is rich in natural ingredients, so it can support your good health. It will be perfect as an additive for salads and other cold dishes as well as for frying and boiling.
Who is OstroVit Coconut Oil Cooking Spray for?
Extra virgin olive oil is a natural vegetable fat made from olives. Its composition includes large amounts of monounsaturated oleic acid which is able to reduce inflammation and protect against the growth of cancer, and omega-3 and omega-6 acids as well as vitamins A, D, E and K which , together, support the operation of many systems.
OstroVit Coconut Oil Spray is for anyone who wants to reduce the amount of fat they consume on a daily basis. Thanks to a practical spray, you can easily dose the product and control its use. The olive will be useful when preparing various dishes. Although you can use it freely for baking and frying, its valuable properties are retained when served cold.
Thanks to the content of omega 3 and 6 acids as well as the complex of vitamins A, D, E and K, the coconut becomes much healthier than other popular fats.
Using coconut oil spray, you can limit the size of the portion of fat, due to which the product stays longer and is enough for a long time.
Coconut oil supports the functioning of the digestive system and works perfectly in people suffering from obesity and diabetes.
Ingredients
Coconut oil, emulsifier: lecithin (rapeseed); propellant gas: propane butane.
Advice for use
Coconut oil spray will work well as an additive for salads and as a fat for frying and cooking meat and vegetables. You can use it to grease the barbecue grill and parchment paper.
Shake the bottle slightly before use. Before use, spray a layer of oil from a distance of about 20 cm directly on the pan, grill, baking sheet before inserting the food and heating the object.
Cautionary note
Pressurized container: May burst if heated. Extremely flammable aerosol. Keep away from heat, hot surfaces, sparks, open flames and all other ignition sources.
Do not spray on an open flame or other ignition source. Do not pierce or burn, even after use.