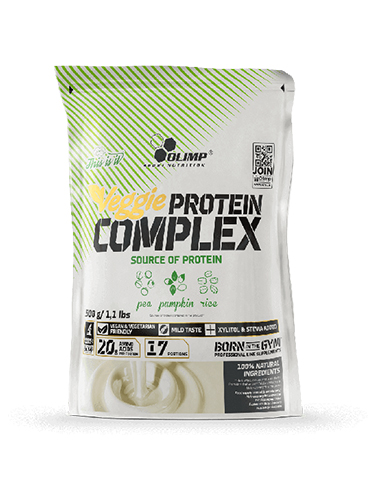 OLIMP SPORT NUTRITION Veggie Protein Complex (Chocolate, 500g)

Quick overview
The perfect choice for vegans and vegetarians looking for a high-quality source of plant-based protein.
OLIMP SPORT NUTRITION Veggie Protein Complex
Olimp Veggie Protein Complex is the perfect choice for vegans and vegetarians looking for a high-quality plant-based protein source. This dietary supplement is specially designed to meet the nutritional needs of people who prefer to avoid animal-based proteins while looking for a delicious and healthy option to increase their protein intake.
Olimp Sport Nutrition's Veggie Protein Complex offers up to 20g of protein per serving, from three premium plant-based sources: peas, pumpkin seeds and brown rice. These proteins are rich in essential amino acids, including BCAAs (branched-chain amino acids), which are essential for the growth and maintenance of muscle mass.
This supplement is ideal for those looking to build muscle mass or maintain existing muscle mass thanks to its quality protein intake. In addition, it is enriched with natural additives such as xylitol, stevie or cocoa for a delicious flavor.
With Olimp Veggie Protein Complex, you are guaranteed a premium source of plant-based protein that is delicious and easy to incorporate into your eating routine, whether you are vegan, vegetarian, or simply looking to diversify your protein intake. Opt for the purity of plant-based food supplements with Veggie Protein Complex!
Ingredients
The ingredients of Veggie Protein Complex are:
Protein blend (pea protein, brown rice protein, pumpkin seed protein)

Sweeteners: xylitol, steviol glycosides

Reduced fat cocoa powder (for chocolate flavor)

Fructooligosaccharides

Natural flavors (except for neutral flavor)

Thickener: xanthan gum
Allergen information
This product is manufactured in a facility that uses ingredients derived from milk, eggs, soy, nuts, peanuts, cereals containing gluten, fish, crustaceans and molluscs. Please take this into account if you have any food allergies.
Advice for use
We recommend taking 1-2 servings per day, at a time of your choosing, preferably between meals and after training. To prepare one serving, mix 28g of powder (approximately ½ scoop) with 250ml of water and consume immediately after preparation. Make sure you do not exceed the recommended daily dose. This food supplement should not be used as a substitute for a varied and balanced diet. It is intended to be consumed as part of a healthy lifestyle.
Cautionary note
This product is not recommended for young children, pregnant or breastfeeding women, and people hypersensitive to any of the ingredients in the formula. Excess use may result in laxative effects. Keep this product out of the reach of children.