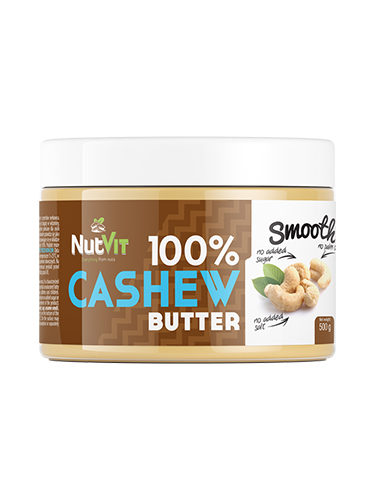 NUTVIT 100% Cashew Butter (500g)

Quick overview
100% made from cashew nuts! No added salt. No added sugar. Does not contain palm oil!
10,15 €
$ 11.17
$ 14.82
10.15

Ship to

calculate shipping cost
Secure and reliable payment with

NUTVIT 100% Cashew Butter
NutVit 100% Cashew Butter is an excellent and unique product, created for the most demanding gourmets, but also for people who care about their slim figure, sport, and for those who limit harmful excess salt or sugar in their diet. The deep, full, flavor of cashew nuts goes perfectly as a sweet and salty addition. It is a real bomb of valuable fatty acids, proteins and minerals. Depth of taste, 100% satisfaction and a guarantee of the highest quality.
Peanut butter NutVit 100% Cashew Butter is 100% made from cashew nuts. It does not contain salt, sugar and palm oil. It is an ideal snack and a full-fledged product made of selected, roasted and previously ground nuts of the Western cashew tree. The name comes from their shape, which resemble a human kidney. Thanks to the high content of healthy fats, it is perfect for supplementing the needs in our diet.
Properties:
A source of easily digestible protein

The wealth of healthy mono- and polyunsaturated fats

Perfect for physically active people who have an increased need for calories

A great source of micro and macronutrients for vegans and vegetarians

An excellent base of magnesium

High content of potassium

Can help reduce blood pressure.
Ingredients
Roasted cashews 100%.
Allergen information
The product may contain other nuts, peanuts, milk (including lactose), soy, sesame seeds, oats, eggs, crustaceans, fish.
Advice for use
Consume as needed.