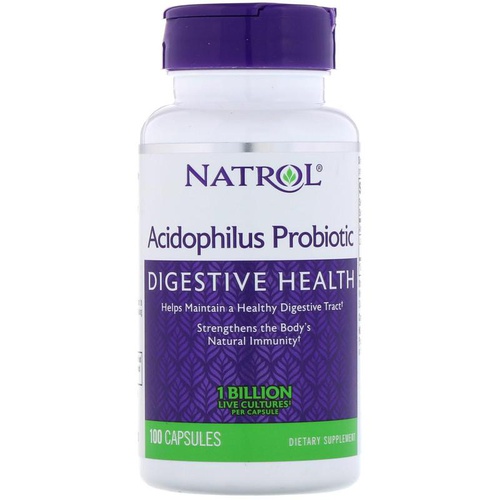 NATROL Acidophilus Probiotic (150 Caps)

Quick overview
Digestive health
Helps maintain a healthy gut
Strenghtens the body's natural immunity
1 Billion live cultures per capsule

NATROL Acidophilus Probiotic
Natrol® Acidophilus is a probiotic that provides healthy bacteria to promote digestive health and helps maintain a healthy intestinal tract. Acidophilus can also aid with the breakdown of food and absorption of nutrients.
Acidophilus(Lactobacillus acidophilus) is a group of "friendly" bacteria that normally live in the human small intestine. In our intestinal tracts reside "friendly" and "unfriendly" bacteria. A poor diet, stress, smoking, or other environmental factors can cause the "unfriendly" bacteria to take over which may result in stomach upset, irregularity, bloating, or a decreased immune function. Adding a probiotic like Natrol Acidophilus to your diet may help restore an intestinal balance of bacteria.

Ingredients
Lactobacillus acidophilus, Microcrystalline Cellulose, Whey powder, Gelatin, Magnesium Stearate, Silicon Dioxide

Allergen information
May contain traces of milk, egg, gluten, soy, crustaceans, sulphur dioxide and nuts.

Advice for use
Take 1 capsule 3 times a day, preferably at meal times.

Cautionary note
Do not use as a substitute for a balanced and varied diet.
Do not exceed the recommended daily dose. Keep out of the reach of children.