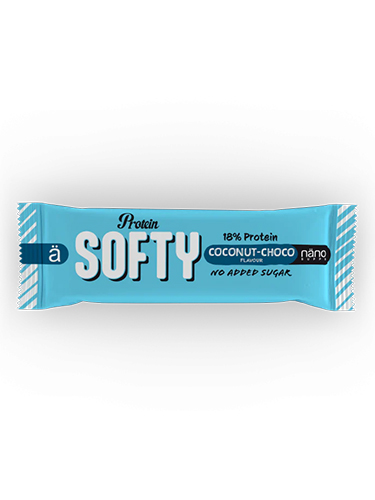 NANOSUPPS Ä Protein Softy (Coconut Choco, 33,3g)

Quick overview
Ffluffy and light, with 6g of protein per bar.
1,89 €
$ 2.08
$ 2.76
1.89

Ship to

calculate shipping cost
Secure and reliable payment with

NANOSUPPS Ä Protein Softy
Discover delicious protein bars Protein Softy from the Nanosupps brand! Designed to satisfy your cravings for sweets while maintaining an active and healthy lifestyle, these melt-in-the-mouth bars are the perfect addition to your daily routine.
With 6g of protein per 33.3g bar, Protein Softy help you support your muscles and promote optimal recovery after physical exertion. Thanks to their protein content, they can also be an excellent snack to fill the munchies between meals.
Available in two delicious flavors, "Coconut Chocolate" And "chocolate caramel", these bars will delight your taste buds with combinations of tastes that are both creamy and delicious.
One of the main advantages of Protein Softy is their low calorie content, with only 127 kcal per bar. This makes it a smart choice for anyone looking to maintain weight while enjoying a delicious snack.
Try them today and make them your ideal partner for a balanced and active lifestyle!
Ingredients
Caramel (26%) (sweetener: sorbitol; coconut oil, dextrin, humectant: glycerol; powder of milk skimmed, water, emulsifier: mono and diglycerides; salt, acidity regulator: sodium citrate; natural flavor), protein milk, oligofructos sirup, milk skimmed, sweetener: maltitol; cocoa butter, humectant: glycerol; cocoa paste (5.6%), inulin, butter fat (milk), emulsifier: lecithin (military), aromas, salt.

Allergen information
May contain traces of eggs, almonds, cashew nuts, hazelnuts, peanuts, lupine seeds and wheat.

Cautionary note
Contains polyols, excessive consumption may have laxative effects.