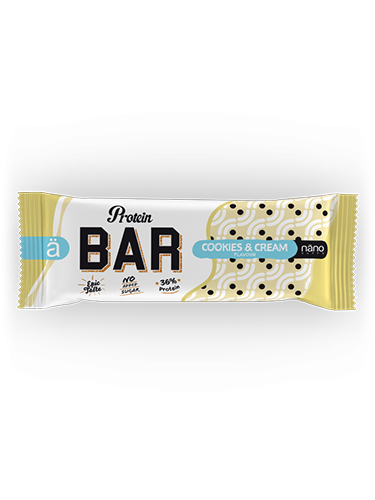 NANOSUPPS Ä Protein Bar (Cookies & Cream, 55g)

Quick overview
20g of protein per bar, delicious and crunchy taste, less than 2g of sugar per bar
2,28 €
$ 2.51
$ 3.33
2.2800000000000002
1,94 €
$ 2.13
$ 2.83
1.9379999999999997

Ship to

calculate shipping cost
Secure and reliable payment with

NANOSUPPS Ä Protein Bar
Nanosupps Protein Bar is not only an incredibly delicious protein bar, but also a nutritional wonder.
Each protein BAR has three delicious layers. A soft core, a creamy layer of caramel and a delicious chocolate coating with crunchy crunchies. Sweetness, bite and crunch are perfectly combined in this bar!
Ingredients
Reference flavor: Cookie and Cream. Biscuit-flavored protein bar dipped in white chocolate with sweeteners, with a protein content of 36%. Mixture of proteins (proteins milk, collagen hydrolyzate,proteins soy), white chocolate with sweetener (sweetener: maltitol; cocoa butter, milk wholepowder, emulsifier:lecithins soy ; natural flavor), humectant: glycerol, water , black biscuit 5% pieces (maltitol; rice flour, corn starch, coconut oil, low-fat cocoa powder, salt, baking powders: sodium bicarbonate, natural flavor), dietary fibers: polydextrose, protein nuggets soybean (isolate soyprotein,cocoa, tapioca starch), couverture chocolate with sweetener (cocoa liquor, sweetener: maltitol, cocoa butter, emulsifier: sunflower lecithin, natural flavor), palm fat, flavor, sweetener : sucralose. Contains natural sugars.
Allergen information
May contain traces of cereals containing gluten from peanuts and nuts.
Cautionary note
Note: Excessive consumption may produce laxative effects. Store in a cool, dry place (15-22C). Once opened, use it quickly. Keep away from direct heat and light.