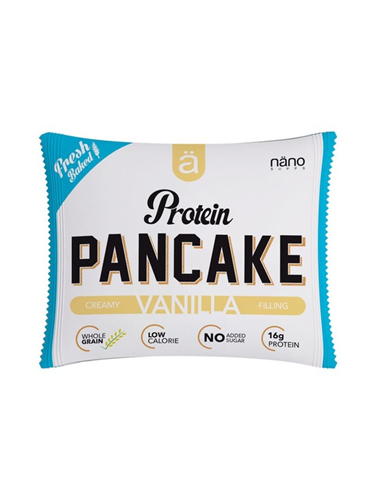 NANOSUPPS Ä Ä Protein Pancake (Vanilla, 45g)

Quick overview
16 g of protein per pancake. Only 2 g of sugar per pancake. Made with high quality Ultra-Whey (VOLAC). Made with eggs from free-range hens. With wholemeal flour.
2,49 €
$ 2.74
$ 3.64
2.49
1,99 €
$ 2.19
$ 2.91
1.99

Ship to

calculate shipping cost
Secure and reliable payment with

NANOSUPPS Ä Ä Protein Pancake
Lovers of protein pancakes will be delighted. These soft filled pancakes with delicious protein cream give new emphasis to sports nutrition. The pancake dough is composed of Ultra-Whey Protein (VOLAC Volactiv), wholemeal flour and eggs (open air). The filling of a delicious protein whipped cream.
Ingredients
Pancake: Water, Whey Protein (VOLAC Volactive Ultra Whey 80 Instant), Egg Yolk, Humectant: Glycerin, Whole Wheat Flour, Sunflower Oil, Bulking Agents: Disodium Diphosphate, Sodium Carbonate & Calcium Carbonate, Maize Starch, Sweetener: Sucralose, Salt, Preservatives: Potassium Sorbate & Sodium Acetate
Filling: Water, Sweetener, Flavoring, Modified Starch, Refined Vegetable Fat, Thickener: Carboxymethylcellulose, Flavorings, Salt, Preservative: Potassium Sorbate, Emulsifier: Polysorbate 60, Colorant: Beta Carotene.
Allergen information
Contains Milk, Egg, Wheat. May contain traces of Milk and Soy