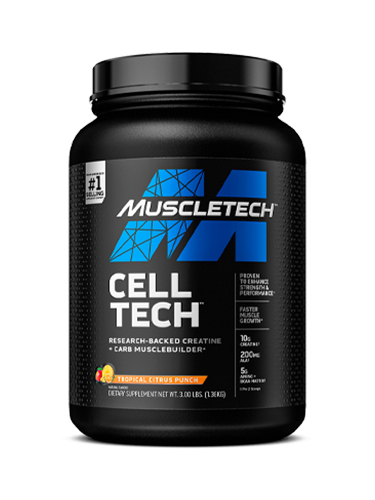 MUSCLETECH Cell Tech (Tropical Citrus Punch, 1360g)

Quick overview
The ultimate lean muscle-activating formula
27,90 €
$ 30.69
$ 40.73
27.9

Ship to

calculate shipping cost
Secure and reliable payment with

MUSCLETECH Cell Tech
ULTRA-PURE & CLINICALLY VALIDATED
Cell-Tech® is a scientifically advanced, latest-generation creatine formula featuring a clinically validated blend of HPLC-tested, ultra-pure creatine monohydrate and carbohydrates.
INCREASE STRENGTH, MUSCLE SIZE & FULLNESS
Delivers a researched combination of creatine monohydrate and carbs, triggering an insulin spike post-workout, transporting creatine straight into muscle while rapidly replenishing glycogen stores.
FAST MUSCLE GROWTH & ENHANCED NUTRIENT TRANSPORT
Cell-Tech® delivers 10g of pure creatine per 2 scoops, reducing recovery time between sets and amplifying strength. Plus, research suggests that ALA improves the absorption of creatine and glucose.
MUSCLE-FUELING BCAAS & CELL-VOLUMIZING AMINOS
Quickly digested and absorbed, this formula supplies a 2:1:1 ratio of BCAAs, plus taurine and alanine – two of the most abundant amino acids in muscle, which aid in cell volumizing.
Ingredients
Multi-stage carb blend (maltodextrin, dextrose, ModCarb® [oat bran, quinoa, buckwheat, millet], waxy maize [corn starch], cluster dextrin), soluble corn fiber, silicon dioxide, citric acid, natural flavors, salt, beet juice powder (color), sunflower lecithin, acesulfame-potassium, sucralose, beta-carotene (color).
Contains coconut ingredients.
Allergen information
Processed in a facility that also processes milk, egg, wheat, soy, tree nut, peanut, fish/crustacean/shellfish ingredients.
Advice for use
Take 1 scoop of Cell-Tech® with water immediately following your workout. If you're not training that day, have your serving in the morning when you wake up. As with all creatine products, maintain an adequate state of hydration during use.
Cautionary note
Not intended for use by persons under 18. Do not use if pregnant or nursing. Consult a medical doctor if you have a medical condition or before starting any diet or exercise program. If you experience a skin rash or other allergic reaction, discontinue use and consult a medical doctor. Keep out of reach of children.