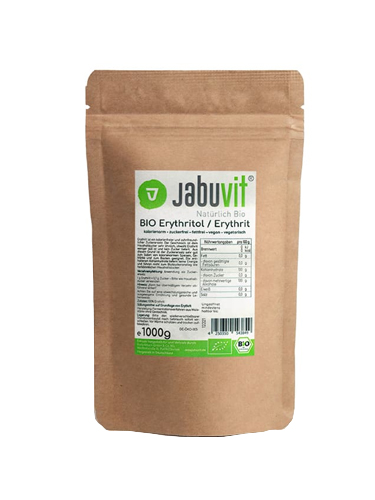 JABUVIT Bio Erythrit (1000g)

Quick overview
Organic certified erythritol powder for a delicious and low calorie diet.

15,99 €
$ 17.59
$ 23.35
15.99

Ship to

calculate shipping cost
Secure and reliable payment with

JABUVIT Bio Erythrit
ERYTHRITOL/ORGANIC ERYTHRIT is a gift from Mother Earth. This high quality, certified ORGANIC erythritol sweetens your day without any calories, either as a drink or as a healthy addition to pastries. Enjoy your favorite desserts without any remorse and in organic quality.
Premium quality and without additives. Vegan and fat-free, it fits into both the vegan diet and is excellent for a low-sugar diet.
ENVIRONMENTALLY FRIENDLY PACKAGING - with conviction. Jabuvit expressly uses environmentally friendly kraft paper packaging for their organic erythritol. Thus, not only this dextrose powder, but also mother nature, remains immune to any environmental pollution.
Jabuvit only uses organic raw materials of the highest quality. Manufactured to the highest quality requirements in Germany.
Ingredients
100% erythritol. Erythritol sweetener Production: Non-GMO fermentation process from corn starch.

Advice for use
Use as a sugar substitute: 1g erythritol = 0.7g sugar - Please use as table sugar.
Please close the bag immediately after use. Protect from heat and keep dry.
Cautionary note
May have a laxative effect if consumed in excess.