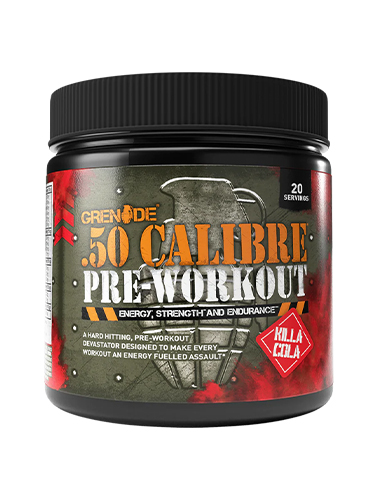 GRENADE Pre (Killa Cola, 232g)

Quick overview
Powerful pre-workout designed to increase energy, strength and endurance.
23,49 €
$ 25.84
$ 34.30
23.49

Ship to

calculate shipping cost
Secure and reliable payment with

GRENADE Pre
.50 Caliber is the ultimate pre-workout, designed to take your workouts to the next level. This powerful supplement contains citrulline malate, as well as beta-alanine, caffeine and creatine to boost your energy, strength and endurance levels. .50 Caliber will help you reduce fatigue during workouts and increase your training capacity. Available in four flavors, this powerful pre-workout guarantees an explosive session, helping you push past your limits and achieve your goals!
Ingredients
Creatine Monohydrate, Beta-Alanine, Citrulline Malate, Glycerin, Acid (Citric Acid), Theobroma Cocoa Beans, Arginine, BCAA Blend (L-Leucine, L-Valine, L-Isoleucine), Potassium Bicarbonate, Flavor , caffeine, taurine, beet extract, sodium bicarbonate, green tea extract, colour: beet red (Berry Blast), glucuronolactone, American ginseng, L-tyrosine, sweetener (sucralose), bitter orange powder, niacin ( nicotinic acid), folic acid.
Advice for use
Mix one serving (half dose - 11.6 g) with 150-250 mL of cold water and stir or shake. Consume approximately 30 minutes before training. DO NOT exceed one dose per day. DO NOT consume within 4 hours of sleep.