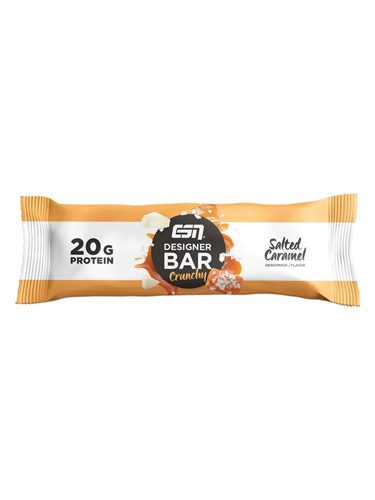 ESN Designer Bar (Salted Caramel, 60g)

Quick overview
High quality protein bar
20g protein per bar
No added sugar
Low-carb
No palm oil

2,49 €
$ 2.74
$ 3.64
2.49
2,12 €
$ 2.33
$ 3.09
2.1165002380000004

Ship to

calculate shipping cost
Secure and reliable payment with

ESN Designer Bar
The Designer Bar Crunchy is a healthy alternative to the many high-sugar industrial chocolate bars. With no added sugar and no palm oil, it is the ideal source of protein for your body. It has 20g of protein per serving and will keep you full between meals. Extra crunchy on the outside, its melt-in-the-mouth core consists of a smooth protein cream coated with a delicious layer of the finest chocolate for a unique taste experience.

Designer Bar Crunchy is suitable for weight loss, mass gain, weight control, or just as part of a healthy lifestyle. Thus, Designer Bar Crunchy is the ideal bar to indulge in a gourmet, guilt-free break !

Ingredients
Chocolate caramel: Milk protein, Sweetener (maltitol), 13% caramel paste (polydextrose, sweetener (maltitol), Condensed milk, Coconut fat, stabilizer (glycerin), cocoa butter, emulsifier (lecithin), salt, stabilizer (pectin, natural flavor), collagen peptides, humectant (vegetable glycerin), cocoa butter, Milk powder, Cocoa mass, polydextrose, cocoa powder, sunflower oil, potato starch, salt, flavorings, emulsifier (soy-Lecithin), sweetener (sucralose).

Allergen information
Peut contenir des traces de lait, d'oeuf, de gluten, de soja, de crustacés, de dioxyde de soufre et de fruits à coque.

Advice for use
Consume before, during or after training or as a snack in between meals.

Cautionary note
Do not use as a substitute for a balanced and varied diet.
Do not exceed the recommended daily dose. Keep out of the reach of children. Can have a laxative effect if consumed in excess.