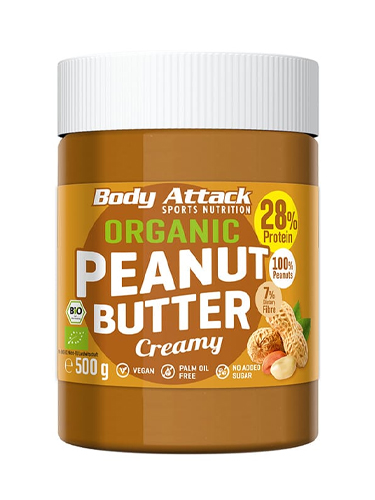 BODY ATTACK Organic Peanut Butter (Creamy, 500g)

Quick overview
Muscle growth and maintenance, Diet Healthy, protein-rich and natural nutrition
BODY ATTACK Organic Peanut Butter
For whom is this Organic Peanut Butter suitable:
For athletes who like creamy protein

For nutritionally conscious people who appreciate organic quality

For vegans who like it nutty and creamy

For all peanut butter junkies
THE BEST PEANUT BUTTER? OF COURSE IT IS HOMEMADE!
Tastes heavenly and you know exactly what´s in it: Namely 100% peanuts from controlled organic cultivation. Nothing more. For best taste and healthy nutrition.
Body Attack brings the pure peanut flavour into the jar. Without genetic engineering. Without additives. They deliberately avoid sugar, salt, flavourings or palm oil. This Organic Peanut Butter is a natural product. 100% organic quality. You will love it.
WHY ORGANIC PEANUTS?
BODY ATTACK stands for excellent product quality. That's why they use selected organic peanuts from controlled organic farming for their newest peanut butter. Because a healthy diet always goes hand in hand with high quality food.