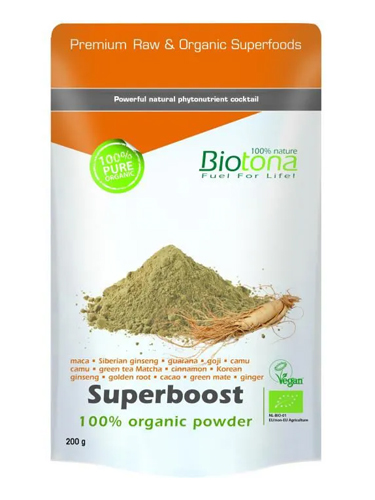 Biotona Bio Superboost powder (200g)

Quick overview
100% pure plant powder
organic certified & vegan
Physical & mental performance
Ideal for smoothies & shakes
Provides energy & vitality

34,70 €
$ 38.17
$ 50.66
34.7
29,50 €
$ 32.44
$ 43.06
29.495000000000005

Ship to

calculate shipping cost
Secure and reliable payment with

Biotona Bio Superboost powder
Biotona bio Superboost contains all different kinds of ginseng: maca (Peruvian ginseng), Panax ginseng (Korean ginseng), eleutherococcus (Siberian ginseng), ashwagandha (Indian ginseng) and suma (Brazilian ginseng). Panax ginseng, eleutherococcus, ashwagandha and suma enhance physical and mental performance. Maca contributes to physical and mental endurance, as well as providing extra energy and vitality. The natural caffeine from pure Matcha, supplemented by guarana and green maté, contributes towards greater alertness and concentration. The mixture also contains raw powder made from camu camu fruits and red beetroot juice. Biotona Superboost is made complete with the addition of cinnamon and ginger, which not only provide a further vitality boost, but give the mix extra punch and flavour.

Ingredients
powder (100%) from maca*, Siberian ginseng*,
guarana*, goji*, camu camu*, Matcha*, cinnamon*, Korean ginseng*, golden root*, cacao*, green mate*, ginger*. *organic culture**

Allergen information
Advice for use
Add 2 to 4 teaspoons (or 5 to 10 g) of Biotona bio Superboost each day to smoothies or shakes in combination with fruits (juices) or other superfoods, (vegetable) milk or yoghurt.

Cautionary note
Do not use as a substitute for a balanced and varied diet.
Do not exceed the recommended daily dose. Keep out of the reach of children. Contains caffeine (max. 80 mg/day). Not recommended for children, pregnant and breastfeeding women. Consult
your doctor or pharmacist in case of concomitant use of antidiabetic treatment.