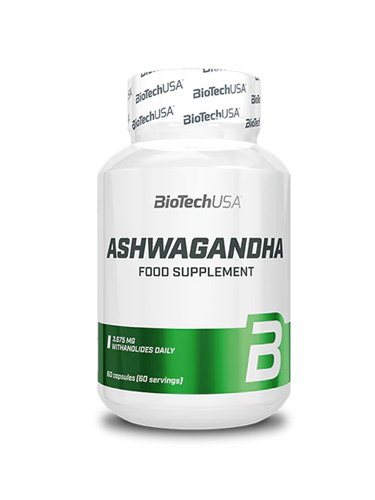 BIOTECH Ashwagandha (60 caps)

Quick overview
With an extract of natural plant origin. 60 day ration.
11,95 €
$ 13.15
$ 17.45
11.95

Ship to

calculate shipping cost
Secure and reliable payment with

BIOTECH Ashwagandha
Ashwagandha (Withania somnifera), whose nickname is Indian ginseng
Ashwagandha is a medicinal plant from Southeast Asia, which is used by many traditional medical trends as an ancestral adaptogen. Although the herb belongs to the nightshade family, not the Araliaceae, it is still often referred to as Indian ginseng, since it is used similarly to ginseng in Chinese medicine. We can also come across the name "the bay of sleep".
It provides natural support in the daily effervescence, enclosed inside a capsule
Generally it is the root or the leaves of the plant which are used in a dried, ground form, and which are mixed into smoothies or purees. Thanks to its presentation in capsule form, the BioTechUSA Ashwagandha product is easy to consume and carry with you during the day wherever you go, and in addition, a single capsule contains an optimal amount of the medicinal plant. Its use, even as a 2-month remedy, is easy to achieve.
Ingredients
Bulking agent (calcium phosphates), Ashwagandha extract 27.7% [Ashwagandha (Withania somnifera) root extract, maltodextrin], capsule shell [gelatin, glazing agent (shellac), colorants (oxides iron and iron hydroxides), acidity regulator (ammonium hydroxide), acidity regulator (potassium hydroxide)], anti-caking agents (magnesium salts of fatty acids, silicon dioxide).
Allergen information
Made in a facility that uses milk, egg, gluten, soy, shellfish, sulfur dioxide and peanuts.

Advice for use
Take one capsule a day before a meal, with a large glass of drink. Do not exceed the recommended daily dose!

Cautionary note
Keep out of reach of children! The food supplement does not replace a balanced and varied diet and healthy lifestyles! The product should not be consumed by children under 12, pregnant or breastfeeding women. The product should not be consumed by patients with known underlying pathologies or when taking medication!