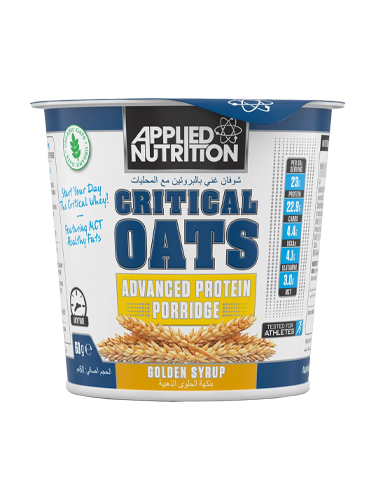 APPLIED NUTRITION Critical Oats (Golden Syrup, 60g)

Quick overview
Organic oats. Breakfast on the go.
2,15 €
$ 2.37
$ 3.14
2.15

Ship to

calculate shipping cost
Secure and reliable payment with

APPLIED NUTRITION Critical Oats
Critical oats from APPLIED NUTRITION is the perfect on-the-go breakfast/snack. It provides a well-balanced blend of 100% organic whole grain oats, high levels of protein including ISO-XP protein isolate and also contains MCT (healthy fat) powder ideal for your busy/active lifestyle .
Ingredients
Whole Grain Rolled Oats 100% Organic Whey (Emulsifier SoyProtein Isolate Milk Whey, Medium Chain Triglycerides (MCT Powder), Natural Banana Flavouring, Thickener (Xanthan Gum), sweetener (sucralose), natural sweetener (stevia).
Allergen information
Suitable for vegetarians.
Advice for use
Remove lid and add 150ml boiling water. Mix well and let stand 1-2 minutes. Eat and ENJOY!
Add 100ml of cold water or milk and mix well. To add heat, place it in the microwave for 30 seconds. Stir again and ENJOY!