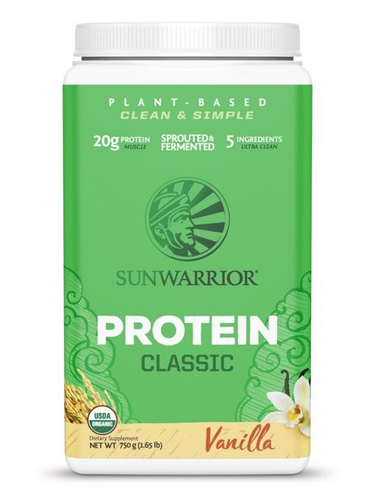 SUNWARRIOR Classic Protein (Vanille, 750g)

Quick overview
Brown rice protein
Certified organic
High amino acid content
Fat free and sugar free

SUNWARRIOR Classic Protein
People who have embraced a vegan lifestyle, who are lactose intolerant, and all those who prefer to consume only plant-based proteins will find their happiness with this 100% organic brown rice protein, with high biological value. Brown rice is a very digestible, very low allergenic, and 100% plant source of protein. It contains all the essential amino acids and a significant content of branched amino acids. It fits perfectly in all muscle building, weight loss, and fitness programs.

This 100% organic plant-based protein can be consumed as a protein shake, preferably prepared with water or plant-based milk. But this product can also be used to prepare dessert creams or be integrated into a dish to increase the protein content. Of medium consistency, Classic Protein can be consumed as a meal replacement.

Ingredients
Raw whole grain brown rice protein, raw organic cocoa, vanilla extract, chocolate extract , rice oligodextrin, stevia, xanthan gum, ancient sea salt, pectin.

Advice for use
Mix 1 serving of 21g with 300ml of water or plant-based milk. To be consumed between meals or as a meal replacement.

Cautionary note
Do not use as a substitute for a balanced and varied diet.
Do not exceed the recommended daily dose. Keep out of the reach of children.