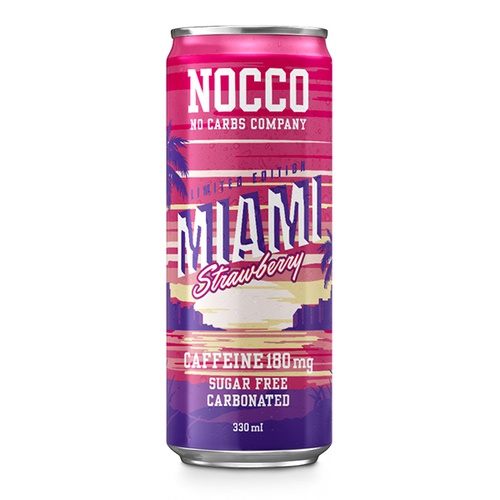 NOCCO BCAA (Miami Strawberry, 105mg)

Quick overview
NOCCO BCAA contains BCAAs (branched chain amino acid), green tea extract, caffeine and six different vitamins. All NOCCO BCAA products are sugar and carbonated free.
2,49 €
$ 2.74
$ 3.64
2.4900002800000003

Ship to

calculate shipping cost
Secure and reliable payment with

NOCCO BCAA
NOCCO BCAA is a functional carbonated drink enriched with BCAAs (branched chain amino acids) and vitamins. NOCCO is available in several flavors. All NOCCO products are sugar free, they contain sucralose.
One can of NOCCO contains five different types of Vitamin B: folic acid, niacin, biotin, B6 and B12. Folic acid, niacin, vitamins B6 and B12 help reduce fatigue and exhaustion. Biotin, niacin, vitamins B6 and B12 help maintain energy and metabolism. In addition, NOCCO BCAA contains vitamin D, which works to maintain muscle function.
Ingredients
Water, Carbonic Acid, Branched Chain Amino Acids BCAA (L-Leucine, L-Valine, L-Isoleucine), L-Carnitine L-Tartrate, Glucoronolactone, Caffeine, Green Tea Extract, Folic Acid, Biotin, Niacin, Vitamin B6 , vitamin B12, vitamin D3, acidity regulators: citric acid & sodium citrate, flavor (pear), sweetener: sucralose, color: beta carotene
Note: Ingredients vary slightly depending on flavor.
Cautionary note
NOCCO BCAA drinks are not recommended during pregnancy, while breastfeeding or for children.