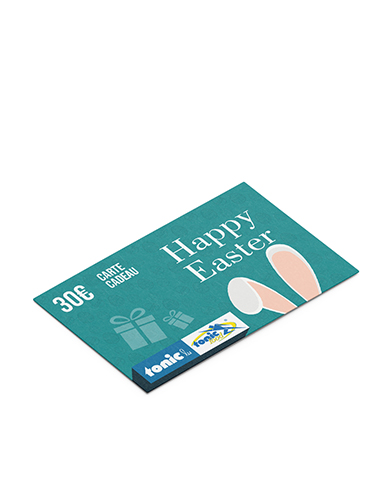 Carte Cadeau TONIC (Easter 30€)

Quick overview
A nice gift card to offer delivered to your home.

30,00 €
$ 33.00
$ 43.80
30.0

Ship to

calculate shipping cost
Secure and reliable payment with

Carte Cadeau TONIC
Give the whole Tonic Food range in a gift card!
Each person has their preferences: there are whey enthusiasts, addicts to a certain brand, fans of sports drinks, fans of accessories. Avoid making a mistake with a Tonic Food gift card, rather than taking the risk of choosing a product that won't be loved, you let the person decide how to use the allocated amount!
Where can Tonic Food gift cards be redeemed?
Gift cards can be used in store (Luxembourg only) or on tonic.lu.
To use the card on tonic.lu:
Scratch the gift code

Insert the gift code when validating your basket on tonic.lu in the box "enter reduction code"
To use the card in store:
Do not scratch the gift code

Give the card at the checkout
Is there an expiry date for using Tonic Food gift
Cards Tonic Food gift cards are valid for 12 months from the date of purchase
By accepting the gift card, the employee is not required to give change when the amount is greater than the price of the item. Scratch the card only when used on our webshop tonic.lu. A "scratched" card is no longer accepted in stores.
Alternative Products
New products coming soon...