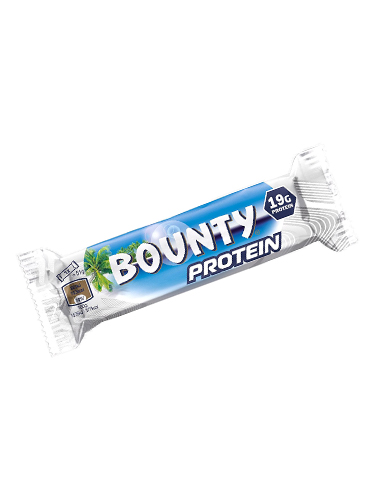 Bounty High Protein Bar (Coco, 52g)

Quick overview
18g of protein per bar
Same taste as the original bountys
Less sugar (only 8.5g per bar)
Only 192kcal per bar

Bounty High Protein Bar
This bar has everything to please, find the original Bounty taste in a bar low in sugar and enriched with proteins.
However, what really sets this bar apart is the fact that it is made from a top-notch blend of milk protein and whey as the dominant protein source.

Ingredients
High protein bar with desiccated coconut coated in milkchocolate. ​ Ingredients: ​ milk chocolate ​ (25%) ​ (sugar‌, cocoa butter‌,skimmed MILK powder‌, cocoa mass‌, lactose and protein from whey(MILK)‌, palm fat‌, whey powder (MILK)‌, MILK fat‌, emulsifier ​ (SOYAlecithin)‌, natural vanilla flavouring)‌, MILK protein‌, collagen hydrolysate‌,polydextrose‌, desiccated coconut ​ (9%)‌, humectant ​ (glycerol)‌, water‌,coconut fat‌, flavouring ‌, sunflower oil

Allergen information
May contain ​ cereals containing gluten, ​ eggs, ​ nuts, ​ peanuts

Cautionary note
Store in a cool, dry place, out of direct sunlight. ​ Not suitable forvegetarians.