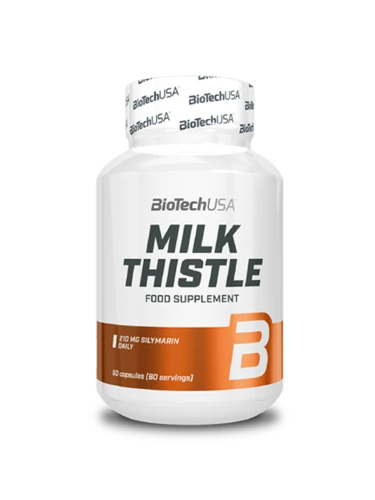 BIOTECH Milk Thistle (60 caps)

Quick overview
natural plant extracts, 210 mg of silymarin per capsule. Package content sufficient for 2 months.
7,95 €
$ 8.75
$ 11.61
7.95
6,76 €
$ 7.43
$ 9.87
6.7575

Ship to

calculate shipping cost
Secure and reliable payment with

BIOTECH Milk Thistle
MILK THISTLE
thistle (Silybum marianum) is an endemic species of thistle that is found around the Mediterranean, in North Africa and the Middle East. The fruit of the plant is achene, from which an active ingredient called silymarin is extracted. This plant extract has long been used in traditional medicine. This kind of food supplement comprising milk thistle extracts is also available in pharmacies, it is appreciated in particular by the elderly, athletes and those who adopt a healthy lifestyle.
NATURAL VEGETABLE EXTRACT
Thanks to its packaging in capsules BioTechUSA Milk Thistle is easy to take and take with you everywhere during the day. The package contains doses for 60 days, so it is easy to use it as a treatment for at least 2 months.
1 serving (1 capsule) contains:
262 mg of milk thistle extract
including 210 mg of silymarin
Like other BioTechUSA products, the Milk Thistle product contains safe and carefully selected ingredients.
Ingredients
Milk thistle fruit extract (Silybum marianum) (44.7%), bulking agent (cellulose gel), capsule shell [gelatin, coating agent (shellac), color (iron oxides and iron hydroxides ), acidity regulator (ammonium hydroxide), acidity regulator (potassium hydroxide)], anti-caking agents (silicon dioxide, magnesium salts of fatty acids).

Allergen information
Made in a factory that uses milk, eggs, gluten, soy, shellfish, sulfur dioxide, and peanuts.
Advice for use
Take 1 capsule per day with a glass of water. Do not exceed the recommended daily dosage.
Cautionary note
Keep out of the reach of young children. This food supplement does not replace a balanced, varied diet and a healthy lifestyle.