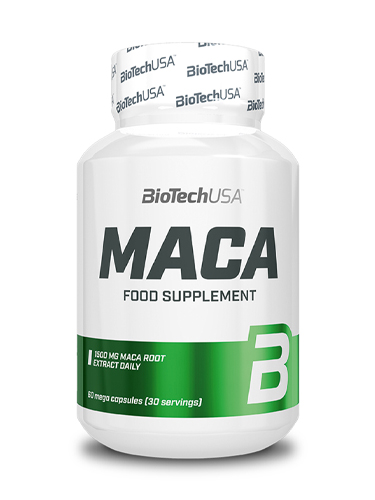 Quick overview
1500 mg of Maca root extract
Natural plant extract
30 servings

15,90 €
$ 17.49
$ 23.21
15.9
13,52 €
$ 14.87
$ 19.73
13.515

Ship to

calculate shipping cost
Secure and reliable payment with

BIOTECH Maca
Maca is a wild-growing tuberous plant from Peru, which is rich in phytonutrients, amino acids, and fatty acids, but it also contains vitamins and minerals. It is no coincidence that Peruvians call it a superfood, but because of its physiological effects similar to ginseng, it is often referred to as Peruvian ginseng. Its application dates back to a long time ago, indeed, it was consumed regularly by the Inca warriors before a battle to increase their strength and toughness. Maca was also used for the preparation of various dishes, in dried, ground form.
Natural superfood, encapsulated
Thanks to its capsule form, Maca is easy to use and carry with you anywhere. The packaging contains capsules for 30 days, so even a monthly cure-like application can be easily accomplished.

Ingredients
Maca extract 62.8% [Maca (Lepidiummeyenii) root extract, maltodextrin], bulking agent (calcium phosphates), capsuleshell [gelatine, glazing agent (shellac), colour (iron oxides and hydroxides), acidityregulator (ammonium hydroxide), acidity regulator (potassium hydroxide)],anti-caking agents (magnesium salts of fatty acids, silicon dioxide).

Allergen information
May contain traces of Milk, Egg, Gluten, Soy, Crustaceans,Sulphur Dioxide and Nuts containing foods.

Advice for use
Take 2 capsules daily with a glass of water

Cautionary note
Do not use as a substitute for a balanced and varied diet.
Do not exceed the recommended daily dose.
Keep out of reach of children.
Not recommended for pregnant and breastfeeding women. Not recommended for people with a medical condition and/or taking medications