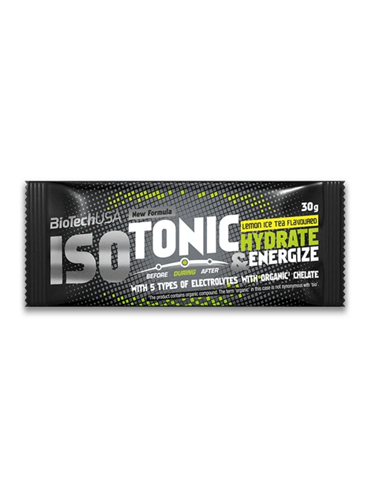 BIOTECH Isotonic New Formula (Lemon Ice Tea, 30g)

Quick overview
Its 69% carbohydrate content comes from 3 types of carbohydrates. Contains 5 types of electrolytes. Contains 1.5g of salt per serving. Contains magnesium of organic origin (magnesium-bisglycinate). Lactose and gluten free. Without preservatives or sweeteners. Practical and economical packaging.
0,95 €
$ 1.05
$ 1.39
0.9500000000000001
0,81 €
$ 0.89
$ 1.18
0.8075

Ship to

calculate shipping cost
Secure and reliable payment with

BIOTECH Isotonic New Formula
Carbohydrate e-electrolyte solutions contribute to optimal performance during long duration endurance training and improve the rate of water absorption. IsoTonic consists of 3 types of carbohydrates, such as the well-known dextrose and sucrose. The third is Palatinose ™, which increases the complexity of the product. Th flanks at their different structures, blood sugar indexes and the rate of absorption of these carbohydrates affect the blood sugar level differently. In addition, IsoTonic also contains magnesium of organic origin (magnesium-bysglicinate). By combining it with calcium and sodium, IsoTonic has an exceptional electrolyte content. The content of this product s vitamin C and B6 contribute to the reduction of fatigue and fatigue, so they are always a good choice duri ng all training with ie all kinds of intensity.
This refreshing isotonic * drink not only supports your fluid intake, but as a carbohydrate-electrolyte solution, it contributes to peak performance in long-term endurance training.
* The product is isotonic at the recommended dilution.
Biotech Isotonic is recommended for men and women looking for a refreshing drink to recharge your carbohydrate storage during your workouts if you are looking for a carbohydrate-electrolyte solution to support your performance during long endurance training.
Like all BioTechUSA products, IsoTonic consists only of safe and carefully selected ingredients.
Ingredients
dextrose, sucrose, isomaltulose2 (PalatinoseTM), flavors, sodium citrate, acid (citric acid), calcium salts of citric acid, magnesium bisglycinate, L-ascorbic acid, colors (tartrazine, Allura Red AC) 3, hydrochloride of pyridoxine. 2Isomaltulose is a source of glucose and fructose. 3Tartrazine, Allura Red AC: may have an adverse effect on activity and attention in children. Made in a factory that manufactures milk, eggs, gluten, soy, shellfish, sulfur dioxide, and foods containing nuts.
Advice for use
Mix 1 serving (30 g = 2 small measuring spoons = 2 heaping tablespoons) of powder with 500 ml of water in a shake. Consume 1 serving during your workouts. We recommend a maximum of 3 servings per day.
Cautionary note
WARNINGS: Keep out of reach of children! Food supplements are not a substitute for a balanced diet and a healthy lifestyle.
Alternative Products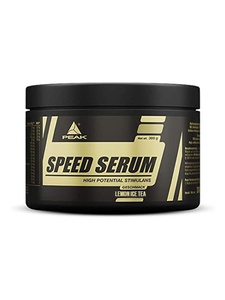 16,91 €
$ 18.61
$ 24.70
16.914999694000002
19,90 €
$ 21.89
$ 29.05
19.900000000000002