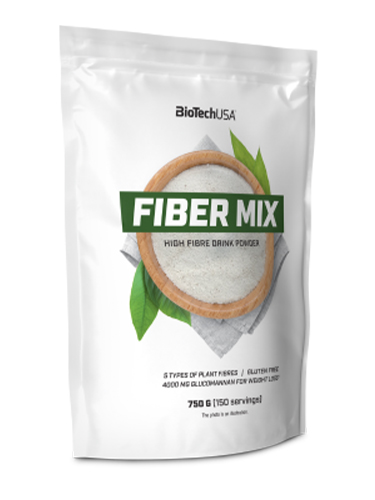 Quick overview
contains 5 types of plant fibers
contains 4 g of glucomannan (from konjac root corm) to support weight loss
vegan
gluten-free
no preservatives

26,91 €
$ 29.60
$ 39.29
26.91
22,87 €
$ 25.16
$ 33.40
22.8735

Ship to

calculate shipping cost
Secure and reliable payment with

BIOTECH Fiber Mix
BioTechUSA Fiber Mix contains well-known fiber-sources, such as psyllium husk or glucomannan, also known as konjac extract. Psyllium is a great water-soluble dietary fiber often used to thickening, because it absorbs water effectively and swells up to several times its own weight.

As part of a low-calorie diet, glucomannan contributes to weight-loss and the maintenance of normal cholesterol level.

Ingredients
Inulin, Glucomannan, Citrus Fiber, Psyllium, Fructooligosaccharides.

Allergen information
None
Advice for use
Use as you wish. You can consume it on its own, mix it with water, add it to your favorite smoothie, use it as a basic ingredient in a fit cake or thicken a soup with it! If you mix it with a probiotic yoghurt, you can give your body prebiotics (water-soluble dietary fibers) and probiotics (thanks to yoghurt cultures) at the same time.

Cautionary note
Dietary supplements do not replace a varied and balanced diet and healthy lifestyle. In case of insufficient fluid intake, it may cause suffocation. Consume it with a plenty of water to ensure that the product gets into your stomach. Not recommended to individuals with dysphagia. Not recommended in case of known underlying disease or medication. Not recommended to consume it with other products containing dietary fiber.