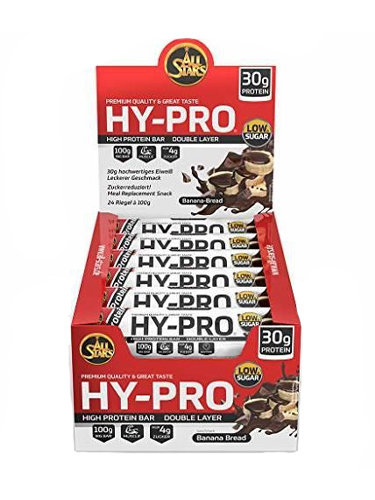 ALL STARS Hy-Pro Bar LS 24x100g (Banana Bread)

Quick overview
Large 100 g bar
Perfect as a meal replacement
Only 4 g of sugar per bar
30g of high quality protein

64,30 €
$ 70.73
$ 93.88
64.29999952

Ship to

calculate shipping cost
Secure and reliable payment with

ALL STARS Hy-Pro Bar LS 24x100g
This large 100g bar contains a bit more than 300 kcal and is not necessarily low calorie but it low sugar with only 4g per bar. Hy-pro bar is suitable for the phase of mass gain or muscle building and for athletes with an increased need for calories. Containing 10-11g of fat and 22g of carbohydrate Hy-Pro Bar provides 30g of high-quality protein, mainly from milk protein, and a portion of whey protein isolate.
Hy-Pro Bar is an absolute All Stars classic and has been designed for high-performance athletes who prefer a sweet snack high in protein with a low sugar content. With a combination of high-quality nutrients, the Hy-pro bar is available in several flavours that will revive your taste buds. Ideal as a quick snack after a workout or as a meal replacement.

Ingredients
Polydextrose syrup (filler polydextrose, water), milk protein, humectant glycerine, sweetener maltitol, skimmed milk powder, soy protein crispies containing cocoa, 5.3% (soy protein isolate, tapioca starch, cocoa powder, heavily de-oiled), palm oil, inocoa paste, cocoa butter, flavored almond paste , Emulsifiers; Soy lecithin, tonka bean extract.

Allergen information
May contain traces of milk, egg, gluten, soy, crustaceans, sulphur dioxide and nuts containing foods.

Advice for use
Take a Hy Pro Bar after a workout or according to your protein needs.

Cautionary note
Do not use as a substitute for a balanced and varied diet.
Do not exceed the recommended daily dose. Keep out of the reach of children. May cause laxative effects if consumed excessively.